All Rosaries
Elasticated Rubber Childrens Rosary (5942)
Elasticated Rubber Rosary Bracelet (59450)
My First Rosary/Pearl Bead/Blue (5950)
My First Rosary/Pearl Bead/Pink (5951)
My First Rosary/Pearl Bead/White (5952)
Plastic Corded Rosary - St.Anthony (5960)
Plastic Corded Rosary-Divine Mercy (5961)
Plastic Corded Rosary - Knock (5962)
Plastic Corded Rosary - Lourdes (5963)
Plastic Corded Rosary - Miraculous (5964)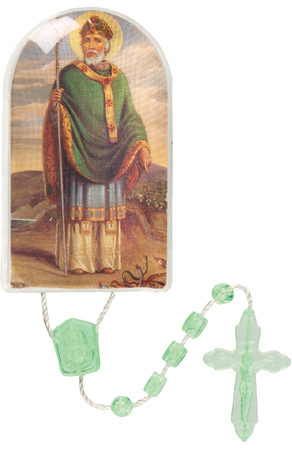 Plastic Corded Rosary-Saint Patrick (5965)
Plastic Corded Rosary-Sacred Heart (5967)
Back to top
As suppliers of rosary gift items for over 60 years, our selection of rosary beads, bracelets, necklaces, rings and accessories is unmatched with over seven hundred different variations and gift sets to choose from.
Our rosary gift sets are perfect for any occasion and can be custom designed to meet requirements from any store. We currently have a popular selection of sets for communions, confirmations, St. Patrick's Day and various pilgrimages.
These sets also come with useful devotional books, leaflets and prayer cards on 'How to pray the rosary' as well as prayers to specific saints.
Our rosary bead selection can fit any budget and appeal to any demographic with many premium and generic designs as well as designs suitable for children. They are also available in silver plated rosary gift boxes.
Finally, our smaller rosary items