Church Candles
Pillar Candle - St. Anthony - 7 Day (86991)
Pillar Candle - Divine Mercy - 7 Day (86992)
Pillar Candle - Lourdes - 7 Day (86993)
Pillar Candle - Miraculous - 7 Day (86994)
Pillar Candle - Saint Pio - 7 Day (86995)
Pillar Candle - Sacred Heart - 7 Day (86996)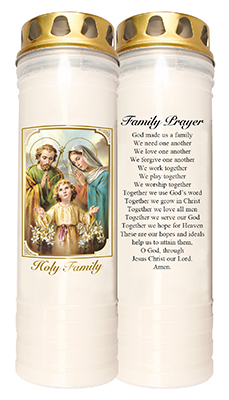 Pillar Candle - Holy Family - 7 Day (86997)
Pillar Candle - Knock Apparition - 7 Day (86999)
Tea Light - Packed 100 (8700)
Household Candles/6 inchx 3/4 inch/Pack of 10 (8709)
Altar Candle/2 1/4 inch Dia x 4 inch High - 30 Hours (8732)
Altar Candle/3 inch Dia x 3 1/2 inch High - 50 Hours (8733)
Back to top
Church supplies to suit the needs and requirements for all churches, repositories, presbyteries and their members.

If you have any questions or queries about our church supplies please do not hesitate to get in touch via phone or email. We are always happy to help. Alternatively, you can check out our frequently asked questions regarding our church supplies provided below.
Question: Where do you deliver your church goods to?
Answer: At the moment we supply our goods all across the United Kingdom & Ireland but we are also able to supply internationally if required.