Candleholders
Glass Votive Light Holder/Someone Special (38758)
Crystal Block/Votive Holder/St.Anthony (50601)
Crystal Block/Votive Holder/Divine Mercy (50602)
Crystal Block/Votive Holder/Lourdes (50604)
Crystal Block/Votive Holder/Knock Madonna (50605)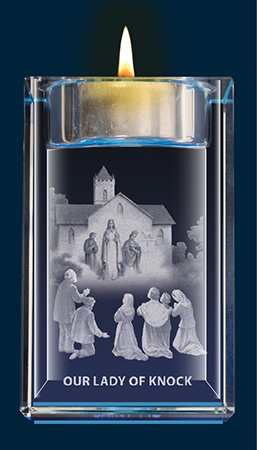 Crystal Block/Votive Holder/Knock Apparition (50606)
Crystal Block/Votive Holder/Miraculous (50607)
Crystal Block/Votive Holder/Saint Pio (50609)
Crystal Block/Votive Holder/Lamb of God (50616)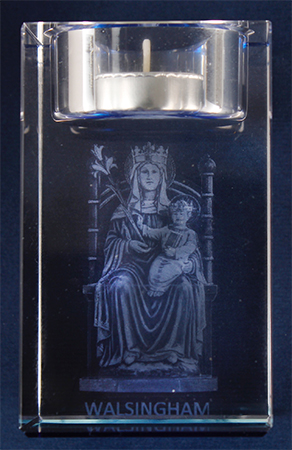 Crystal Block/Votive Holder/Walsingham (50618/WALSINGHAM)
5034951506187
Nr: 50618/WALSINGHAM
Lantern/Faith, Hope and Love/Led Candle (84671)
Lantern/Good Friends/Led Candle (84672)
Back to top
Our range of candleholders can meet the requirements of any store, church, repository or presbytery across the UK & Ireland.
Our church candleholders come in a wide range of materials (gold, brass, gilt, silver etc) and sizes perfect for any altar, shrine or candle type. They can either be freestanding or fixed to the wall and are also suitable for oil lamps and electric fitting. We also provide electric stands and votive holders for locations wishing to avoid the use of burning candles.
Our devotional and gift candleholders also come in a wide range of sizes, shapes and materials with the majority including a small votive candle inside. They also include inspirational messages and prayers to suit your customers' devotional needs.
If you have any questions or queries about our selection of candleholders please do not hesitate to get in touch via phone or email. We are always happy to help. Alternatively, you can check out our frequently asked questions regarding our candleholders provided below.
Question: Do you sell candleholders for the church altar?
Answer: Yes, we have a range of premium altar candleholders suitable for the church altar. They also come available with a crucifix made from the same material.
These holders are suitable for pillar candles but are also suitable for oil burning candles as well. This range also includes much larger candleholders for single paschal candles.
Question: What materials are your candleholders made from?
Answer: Our candleholders are made using metal, glass and ceramic. Our metal holders come in various finishes such as brass, bronze, silver, gold and gilt.
Question: Do you supply lantern candleholders?
Answer: Yes, we have a small but popular range of wooden lantern candleholders suitable only for LED candles. All lanterns come with batteries, LED candles, timer settings and inspirational messages cut into the design of the holder to let the light shine through.
Question: Can your candleholders also be used as fonts?