LED Scented Candles
LED Candle/Scented Wax/Timer/Bless Our Home (86620)
LED Candle/Scented Wax/Timer/Every Day (86621)
LED Candle/Scented Wax/Timer/Faith Hope Love (86622)
LED Candle/Scented Wax/Timer/Faith-Things Easy (86623)
LED Candle/Scented Wax/Timer/Serenity (86624)
LED Candle/Scented Wax/Timer/With God (86625)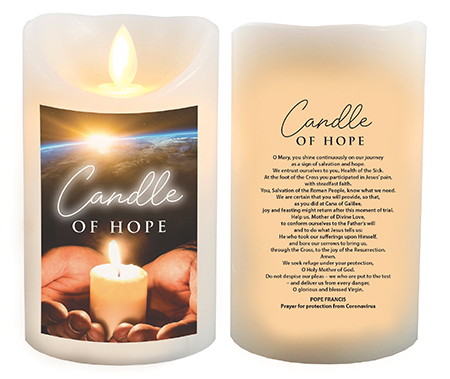 LED Candle/Scented Wax/Timer/Pope Francis (86635)
LED Candle/Scented Wax/Timer/Boy/Rosary (86656)
LED Candle/Scented Wax/Timer/Girl/Rosary (86657)
LED Candle/Scented Wax/Timer/Precious Boy (86658)
LED Candle/Scented Wax/Timer/PreciousGirl (86659)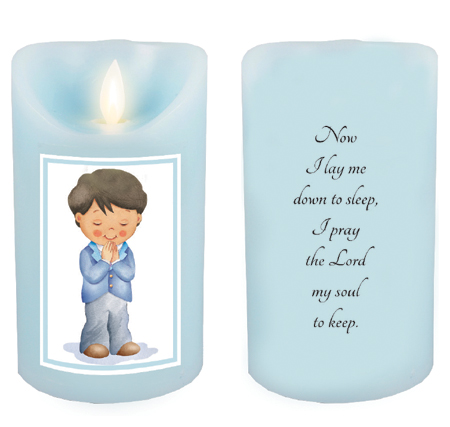 LED Candle/Scented Wax/Timer/Praying Boy (86661)
Back to top
Our candle range is unmatched and available to any store, church, repository or presbytery all across the UK & Ireland.
Our range of candles include wax, LED, scented and many seasonal variations (Christmas, Baptismal/Christening, Easter, Mothers Day etc).
All are supplied in many different sizes, shapes and holders (jar, tin, tealight, tapered, pillar etc) allowing your store to provide a diverse candle selection all year round.

Our church candles are suitable for use at the altar (paschal candles, sanctuary candles, pillar candles and beeswax candles) or by worshippers (votive candles or shrine candles) during religious events.
We also provide larger votive candle stands in standard and electric forms as well.

If you have any questions or queries about our selection of candles please do not hesitate to get in touch via phone or email. We are always happy to help. Alternatively, you can check out our frequently asked questions regarding our candles provided below.
Question: Do you sell candle accessories as well?
Answer: Yes we have a small range of general candles accessories as well as church candle accessories. They range from empty containers for votive candles, lighters, extinguishers, tapers and drip mats.
Question: How long do your candles burn for?
Answer: The burning time and how long a candle will last varies greatly depending on the type of candle you purchase. Votive candles will extinguish much sooner than a church pillar candle or a beeswax candle.
Some of the recorded burn times we have range from 4 hours (tea lights), 72 hours (devotional/pillar candles) to 6/7 days (larger pillar candles). If you'd like to see the specific burn time for any candle you can view this information in your catalogue or in the product description online.
Question: Do you provide candle gift sets?